Costa del Sol
" Costa del Sol Sur "
Un lugar donde encontrar felicidad, calidad de vida, clima soleado, buena salud, seguridad y bienestar
La parte Sur de la Costa del Sol, comprendida entre Gibraltar y Marbella es menos turística y más familiar. Cuenta con una media de 320 días de sol al año y fusiona la bella esencia andaluza con una amable y diversa comunidad cosmopolita que reside o pasa sus vacaciones aquí. En general, la sensación es que la gente es feliz en la Costa del Sol por lo que adquirir una propiedad en ella es sinónimo de inversión exitosa en todos los sentidos. ¡Es seguro que podrá encontrar aquí la casa de sus sueños!
Vivir en este pedacito de costa ofrece al residente kilómetros de playas vírgenes, bellos parajes naturales, un clima y gastronomía únicos en el mundo, seguridad y un ocio increíble en entornos de natural elegancia. En definitiva, un lugar en que personas de todo el mundo desean residir o jubilarse disfrutando de una incomparable calidad de vida, un clima único en Europa y una localización privilegiada a sólo un par de horas de las principales capitales europeas gracias a la cercanía de los aeropuertos de Málaga, Gibraltar, Jerez o Sevilla.
Hablamos además, y sin lugar a dudas, de un paraíso para el deporte y un estilo de vida saludable. El sur de la Costa del Sol, también conocida como Costa Del Golf, cuenta con más de 70 campos de golf, academias y clubes de tenis y pádel mundialmente conocidos, centros ecuestres y un sinfín de oportunidades culturales.
Su entorno natural combina, además, de una manera única, playas poco o nada turísticas con bellísimos paisajes de montaña. El Parque Natural de los Alcornocales alberga el mayor bosque del Mediterráneo y, junto al Pinar del Rey de San Roque, la Sierra Bermeja de Estepona o la Concha de Marbella, entre otros lugares mágicos, ofrecen maravillosas rutas y paseos. Además, resulta facilísimo organizar desde aquí una amplia variedad de excursiones y escapadas: Granada, Sierra Nevada para esquiar, Tarifa y sus alrededores, Córdoba, Sevilla o Cádiz se hallan a pocos minutos en coche.
Un lugar, sin comparación alguna, con todos los ingredientes para una vida saludable, feliz y sin estrés. ¡Olé!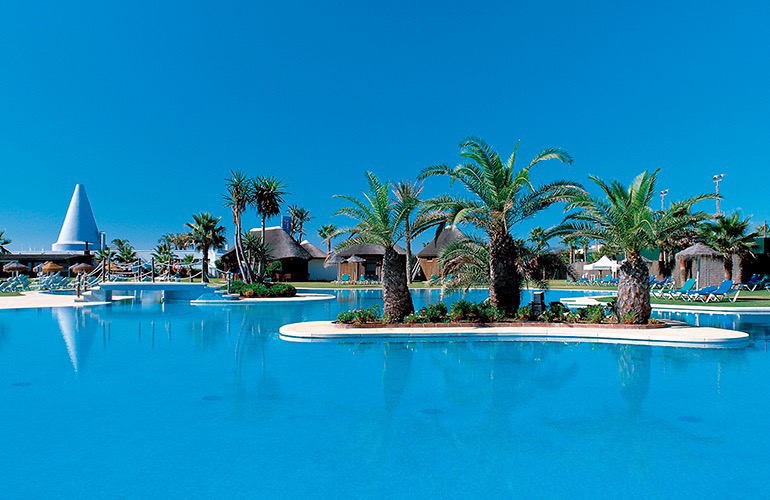 Sotogrande
Sotogrande is one of the most exclusive urbanizations in Europe. It was created at the beginning of the 60s and has been developing discreetly since then from the initial 50 mansions to more than 5.000 homes today. Extending on some 2,200 hectares from the beach to inland, it is the perfect definition about a magical lifestyle within an environment of privacy and exclusivity. A special place where Spaniards from different parts of Spain and foreigners, from all over the world, coexist with residents in a friendly and relaxed environment. Sotogrande is a beautiful, elegant and discreet place. Beyond the Marina, with 1400 berths and its charming promenade with restaurants, shops, cafes, and bars, you can breathe here, peace and quietness. An ideal environment in which to enjoy a great variety of sports, the tennis and paddle tennis clubs, the Santa María Polo Club, where more than 25 polo tournaments are held throughout the year and, of course, the best golf courses in Europe and the world such as Real Valderrama Golf (Ryder Cup 97) along with other formidable courses such as Sotogrande Real, La Reserva Golf, La Cañada Golf or Almenara Golf.
https://www.youtube.com/watch?v=Ycxebh6C8Lg&t=8s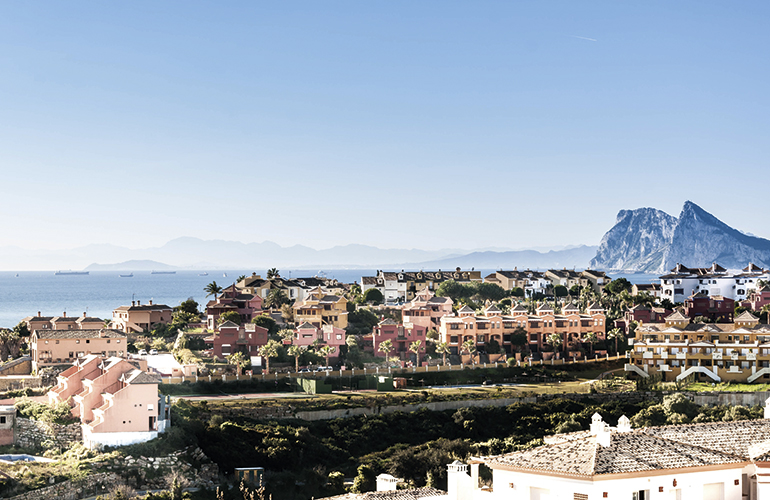 Alcaidesa
The Alcaidesa is a jewel built on a hill at the foot of the beach. It is an urbanization located between La Linea de la Concepción (8 km) and Sotogrande (10 km) with some of the most spectacular views of the Costa del Sol and the African coast. Highlights its imposing sandy beach, Alcaidesa HeathLand, and Links, two golf courses around the Club House ideal for celebrating dream events and the careful aesthetics of this spoiled sister of Sotogrande. Nature, fantastic roads and the best infrastructure, make this a perfect place to live all year round and to spend holiday seasons.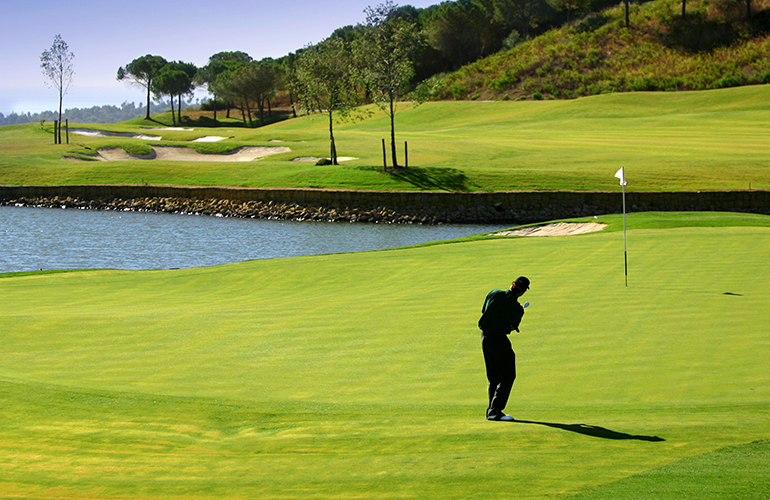 San Roque Club
This exclusive urbanization located a couple of km from Alcaidesa and only a few more from Sotogrande is the closest thing to paradise for every golf lover. The former summer residence of the Domecq family, the image of the cork oaks and hills of the place that houses it, is something unforgettable. The host of the Ryder Cup gala dinner (1997), great sports stars stayed here. It has hosted the Open of Spain (2005 and 2006) as well as the European Tour of the Qualifying School from 1993 to 2007. Of course, it is a place that is in the heart of many golf professionals not only for its excellent course, one of the 5 best in Spain but for the exclusive urbanizations and villas that we find here.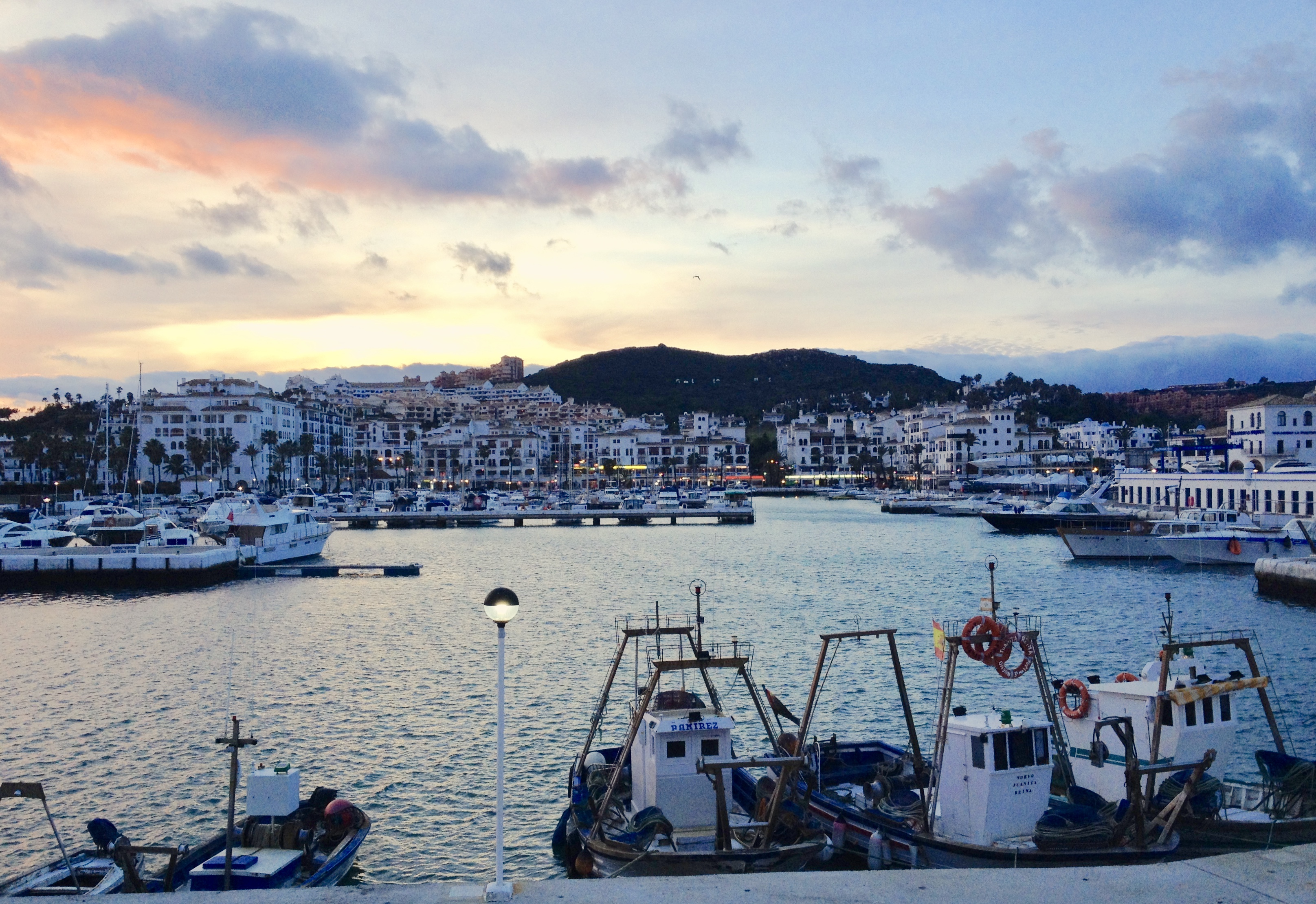 La Duquesa - Manilva
Manilva is the first maritime town in the province of Malaga along the coast. Its economy, based largely on agriculture and fishing, has been opened to tourism in recent years thanks to a picturesque interior landscape, which combines countryside, golf and beach, with the Duquesa marina and the Duquesa Golf and Country Club. As well as the nearby renowned golf courses of Finca Cortesin Golf, Doña Julia Golf and Casares Golf.
The Puerto de La Duquesa, with 328 berths, offers in addition to some quiet beaches, a varied gastronomic offer: Italian, Asian, Hindu, French, Mexican, Argentine and of course Mediterranean cuisine. A peaceful and very cosmopolitan atmosphere where Mediterranean light combines perfectly with yachting and the traditional taste of small fishing boats that go fishing every morning.
https://www.youtube.com/watch?v=qZZyHFJv9QU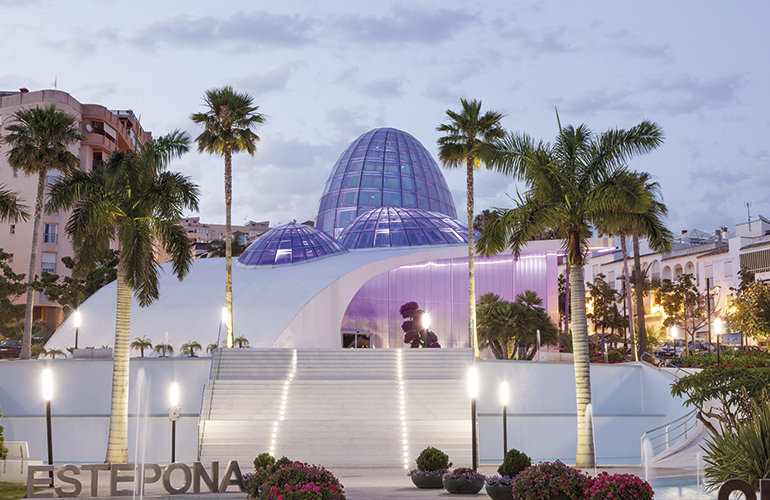 Estepona
Estepona is a comfortable and pleasant place to live thanks to a fresh combination of dynamism - we are talking about a city in which almost 68,000 people live - picturesque Andalusian-style neighbourhood and fabulous beaches and walks. Not forgetting the spectacular golf courses of Valle Romano, Paraiso, Flamingos and Alferini, and famous Atalaya and Guadalmina golfs. The popular mayor of this city, a public notary fully dedicated to his political vocation, most voted in Spain in the last elections, has managed to make, in recent years, fabulous improvements in this already beautiful town. Estepona offers a magnificent combination of beach, yachting in Estepona port, leisure, and mountains just a few minutes from Marbella and just over half an hour from Malaga.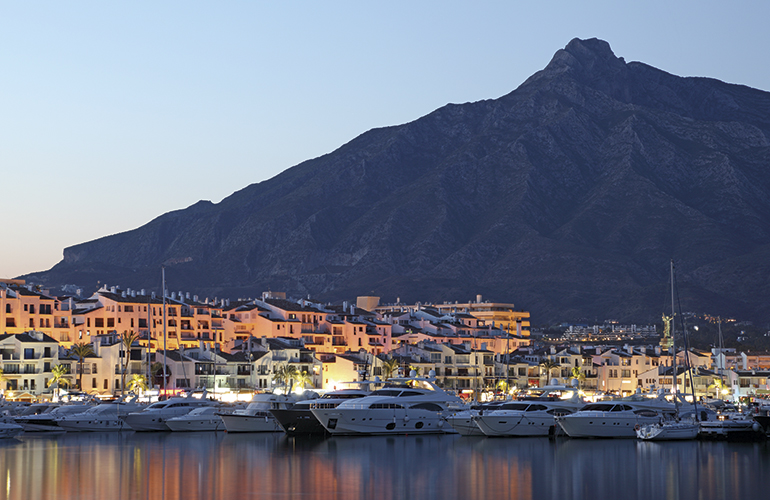 Marbella
This bright city, surrounded by tropical gardens, luxury villas, fantastic beaches and numerous European level golf courses such as Aloha, La Quinta, Los Naranjos, Los Arqueros, Rio Real, Marbella Club, is one of the places in Europe where almost everyone would like to live. It has an unbeatable microclimate thanks to the mountain of La Concha that supports it and adds a couple of degrees of temperature to most sunny days. A cosmopolitan and diverse community resides or spends happy seasons here: the famous Golden Mile with its luxury villas and urbanizations facing the sea while nestling in the city, the possibility of living at the foot steps of the mountain of La Concha and, only about 10 minutes from the center of Nagüeles, the great shops and a lively nightlife in Puerto Banús, savor the purest Andalusian essence in the streets and shops of the old town or breathe elegance and dynamism in the Marina, are some of the features that make Marbella a unique and special place.